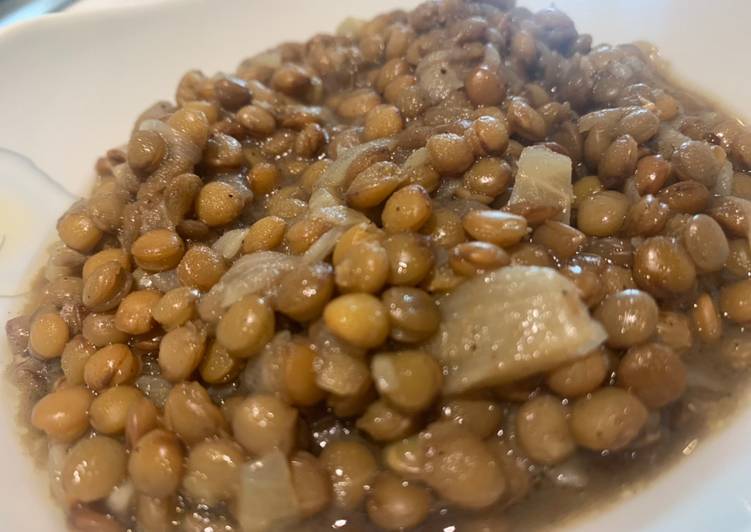 Serious Eats / Laura Edwards
Lentils are a universally beloved pantry staple. Whether a singular star ingredient or combined with other components in a dish, there is no denying the importance of this nutritional powerhouse in many cultures. Lentils are prominently featured in traditional dal, blended with rice for South Indian crepe batter, stewed with meat and vegetables for hearty one-pot meals, tossed with vegetables, fruit, and herbs in salads, and provide the foundation for countless soups. These recipes will take you on a tour across the globe, featuring perhaps the world's most beloved legume.
Easy French Lentils With Garlic and Herbs
Serious Eats / Vicky Wasik
Cooking lentils properly and layering in flavors adds complexity to a deceptively simple French classic.
Roasted Eggplant With Tahini, Pine Nuts, and Lentils
Serious Eats / J. Kenji López-Alt
Tender caramelized roasted eggplant is served on a bed of savory lentil stew, and lavished with a creamy garlic tahini sauce and crunchy toasted pine nuts.
Roasted Tomatoes and Lentils With Dukka-Crumbed Eggs
Serious Eats / Laura Edwards
Lentils dressed in a tangy vinaigrette and roasted tomatoes smeared with harissa are topped with a soft-cooked egg crusted in dukka, a traditional Egyptian spice blend of toasted nuts and seeds.
Bengali Rice Porridge With Lentils and Chicken
Serious Eat / Vicky Wasik
This chicken-potato-red lentil porridge is bright with turmeric and seasoned with ginger, a pungent hit of mustard oil, and a garnish of spicy green chutney.
Dosa (Indian Rice-and-Lentil Crepes)
Serious Eats / Vicky Wasik
Made from rice and urad dal, this quintessentially South Indian savory crepe can be served with any number of fillings or accouterments. Double fermentation gives this batter its signature sourdough-like tang and light, crisp, and chewy texture.
Dal Tadka
Serious Eats / Prasanna Sankhe
Rich and poor, festival fare or frugal meal, dal is the great leveler of Indian food and is a dish that's common across the extreme diversity of the country.
Moroccan Egg Drop Harira (Vegetable and Legume Soup)
Serious Eats / Jen Causey
Harira is nutrient-dense soup that's enjoyed across Morocco, particularly during Ramadan when it's often served to break the fast. This version is made with both lentils and chickpeas and finished with beaten eggs which form little wispy egg bits in the silken soup.
Easy Lentil Soup
Serious Eats / J. Kenji López-Alt
Lemon zest, garlic, and parsley are the secret to simple, but ultra-flavorful, lentil soup.
Mulligatawny Soup
Serious Eats / Sydney Oland
Although there are many variations of this popular Anglo-Indian soup, lentils, toasted spices, and sweetness are key elements in this version.
Smoky Lentil Salad With Zucchini and Poblano Peppers
Serious Eats / Vicky Wasik
Lentils seasoned with smoked paprika and cumin get an extra hit of spice from poblano peppers. Tossed with grilled or broiled zucchini, this robust salad makes for an ideal potluck dish to feed a crowd.
Bright Lentil Salad With Apples, Fennel, and Herbs
Serious Eats / Kerry Saretsky
Kerry Saretsky's take on her favorite go-to dish from London's La Petite Maison transforms seemingly ordinary ingredients into a sophisticated salad.
Cumin-Scented Lentils With Sausage and Dandelion Greens
Serious Eats / Vicky Wasik
The secret to building a deep flavor base for this simple one-pot meal of saucy lentils and sausage is cumin seeds bloomed in hot oil.
Pressure Cooker Chicken, Lentil, and Bacon Stew With Carrots
Serious Eats / J. Kenji López-Alt
Aside from a quick sauté of pancetta and onions, this rich, flavorful stew of fall-off-the-bone tender chicken, lentils, and carrots comes together in just about 30 minutes—perfect weeknight meal.